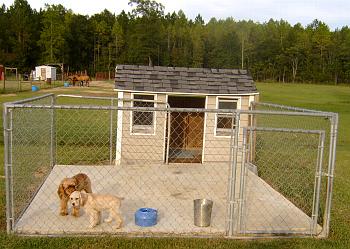 Here at Sherry's Maltipoos we are dedicated Maltipoo,Yorkiepoo and Cockapoo  Breeders, who raise happy, healthy, loving and well socialized Puppies. We believe that it is important that you feel very comfortable with us as a Breeder and the way we treat our Moms, Dads and puppies.  The way your puppy is treated before you take him or her home is very important. You can be assured that your new puppy will come to you feeling like a loved, care for member of the family. Our Maltipoos and Cockapoo puppies and our other animals bring us so much joy in our life that we like to share that joy. We look forward to sharing our joy with you. 
If you looking for a cockapoo please visit our cockapoo web site at www.sherryscockapoos.com. to see if we have any cockapoo puppies for sale or when we are planning on our next litter so you can reserve one of our cute cockapoos in the future.
Sherry's Maltipoos is located in Fitzgerald, Georgia (MAP) . Our location is 100 miles south of Macon, Georgia and 100 miles north of the Florida line. We live in the country on 7 acres where our adult dogs have plenty of room to run and play and get plenty of exercise. They are not kept in kennels. When you drive up you will think we have just gone crazy! We love our pets. Every one of our animals are very special to us.
We raise several designer dogs. We specialize in 1st generation Maltipoos which is a Maltese and Poodle mix and Cockapoos (1st generation Cocker Spaniel and Poodle) and (2nd generation Cockapoo to Cockapoo) and we also have yorkiepoos (1st generation Yorkshire Terrier and Poodle). Either one of these designer dogs would be a good choice for people that have allergies and would make you a great family pet.

I have turn over Sherry's Cockapoos and Sherry's Maltipoos to our daughter Amanda. Both web sites is owned by Amanda Stone Jernigan and maintained by Amanda . The web site names will stay the same and the emails will change to This email address is being protected from spambots. You need JavaScript enabled to view it. and This email address is being protected from spambots. You need JavaScript enabled to view it.
We have appreciation your business in the past and Amanda will carry on the same way we did. You will still be purchasing a happy healthy puppy from a caring, loving breeder that loves what she does. 
Amanda goal is to raise healthy, happy, loving, smart and well socialized cockapoos, maltipoos and yorkiepoos 
for families looking for a wonderful family pet
We want to share and show you how our puppies and our adult dogs live and how they are raised. Visit Our Care Center page and let me show you. Every one of our animals are very special to us.
We are Licensed and inspected by the State of Georgia. We were just inspected by the State on December 8, 2015 and passed all requirements. They do not let you know when they are coming they just show up at your house when they want to inspect, but that is o.k. because we keep everything clean and in order every day. 
 
We thank you for visiting us at Sherry's Maltipoos. We hope you will enjoy our web site and all the information that we have on Maltipoos. Feel free to inquire about the puppies or if you have any questions please feel free to e-mail us at This email address is being protected from spambots. You need JavaScript enabled to view it. or call Amanda at 229-457-4658 (Amanda Cell).
Please take the time to read through all the pages that we have provided and the care we give each puppy. Whether you buy a maltipoo puppy from Sherry's Maltipoos or another breeder or have already gotten your new puppy home and need some advice or just looking for information on maltipoos. We're here for you!
We are very proud of our Moms, Dads and Puppies and we hope you will enjoy browsing through this section of our website to get to know us better, get acquainted with our Moms and Dads and see the puppies that we have available and learn a little about some of the people who have already come to us for their new Maltipoo puppy.  References are always available from our Veterinarian . Just Ask!