Puppy Care
HOW WE CARE FOR OUR  MALTIPOO PUPPIES:

Puppy Care is important to us here at Sherry's Maltipoos we are dedicated  Maltipoo Breeders. We work very closely with our vet to insure that all puppies are in excellent health to the best of our knowledge. We raise healthy, loving, smart and well socialized puppies. Our puppies are raised in a loving and nurturing home where they get plenty of love and attention. We are proud of each and every one of our puppies. As you browse our site you will see that they are each a valued member of our family.  We have wonderful affectionate maltipoo puppies..

Our puppies are seen by our vet at 3-5 days old for an exam.  The puppies are weaned from their mother at 6 weeks. After they are weaned they are taken to our vet to get their health checked and their first set of shots. They have been wormed at 3,4 & 6 weeks of age with wormier from the vet. We start feeding our puppies at 4 weeks with purina pro plan chicken & rice dry brand puppy food.

Between 4 to 5 weeks of age we start crate training our puppies so when you get your new puppy home he/she will be use to going in and out of a crate. And we also have started potty training he/she will not be potty trained,but have started. 

Our puppies are given a bath at 6 weeks of age and again before they go to their new homes. That way they will like a bath. In the winter months I blow dry them.  I shave their little bottom for cleanliness so when you take your new puppy to the vet to get him/her a fecal exam your vet will appreciate  that because it is easy for them to examine your new puppy.

Our maltipoo puppies come from friendly, loving, outgoing moms and dads who have no history of hereditary disease or abnormal confirmation. The puppies are handled and loved every day. They are well socialized when they are ready to come home with you.

Each maltipoo puppy is very special in his or her own way.
Our puppies are usually ready to go to their new homes at 7 - 8 weeks of age.

HOW TO CARE FOR YOUR NEW MALTIPOO PUPPY:
Please be sure you are ready for the responsibility of a new puppy which is just like a baby. When you pick up your maltipoo puppy please try to have the whole weekend to get acquainted with your puppy and for the puppy to get acquainted with you. It is very stressful on a puppy leaving his/her play mates and going to their new home  It is best not to have any activities, parties or have friends from stopping by and don't allow overnight guests until you get acquainted with your new puppy and your puppy gets acquainted with you and spend as much time as you can with your puppy.
Remember that your new puppy is just like a baby please be patience, constant supervision and give him/her love and attendance for a limit 15 minutes to start with and an hour of rest time between activities if you hold the puppy to long you will over stress your puppy. Don't treat a puppy as an adult dog. Treat him/her the same way you would your own infant baby. The way you interact with your puppy at this age is critical to his social interaction.

Watch for signs (sniffing and circling) that he has to go to the bathroom, then take him/her outside immediately after eating, drinking, sleeping or playing. At night, before you go to bed and he will need to relieve himself at least every three hours. Praise your puppy every time he goes to the bathroom outside give him a dog biscuit.
Supervise your children and teach them on how to care, hold, play and feed their new puppy. Don't let children tease a puppy because it can start bad habits such as jumping up and excessive barking or shout at a puppy if they think he/her is doing something wrong. Be sure they understand that puppies can easily get upset and startled by loud noises. Play bitting can get to rough for some young children please supervise young children if they get to playing too rough separate them.
It is best not to take your new puppy around strange dogs and places where dogs have been until your new puppy vaccinations are complete.

Your puppy has been on a strict worming and vaccination program prior to coming home with you. You will be given a record of this when you pick up your puppy.

It is important that your new puppy has a nice bed or a nice place to sleep, fresh water and food at least 3 times a day. Keep feeding him the 4Health puppy food as that is what he or she is used to eating. If you want to change to another kind of puppy food, mix the 4Health with the kind that you want to use until he/she gets used to it. If you change his/her food abruptly it will upset your puppy's stomach.  If you know that you are going to change his food when you pick up your puppy please tell me and I will be glad to give you some 4Health puppy food in a zip lock bag so you can mix the 4Health food with the brand that you want to use. Make sure that your new baby has toys. Don't give your new puppy rawhide, they are not good for puppies

References are always available from our Veterinarian. Just Ask!
Please browse the links found below for more great information about caring for your new puppy.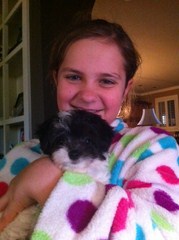 We thank you for visiting us at Sherry's Maltipoos. We hope you will enjoy our web site and all the information that we  have on Maltipoos. Feel free to inquire about the puppies or if you have any questions please feel free to e-mail us at This email address is being protected from spambots. You need JavaScript enabled to view it. or call Amanda at 229-457-4658.
---