Maltipoo Information
I have provide Maltipoo information and on the Maltese and Poodle breed so you can learn more about the Maltipoo breed.
The Maltipoo is a cross between a Maltese and a Poodle. (called a first generation cross)
As a crossbreed,The Maltipoo is not eligible for registration with purebred registries such as the American Kennel Club, but it can be registered with the Continental Kennel Club as a Maltipoo. Both the Maltese and the Poodle have similar traits making the maltipoo a wonderful puppy of both breeds.
If you are looking for a lap dog you will love a Maltipoo. They make wonderful little lap dogs and love to cuddle for hours and will still just still your heart. They have the cutest little teddy bear face they are just adorable little puppies.
The puppies personalities is not developed in the 7 -8 weeks they are here with us. The new family will develop the personality of their new puppy with consistent training, love and socialization. However, your new puppy will go home with a sweet, happy and loving spirit with plenty of puppy kisses for you. It is your responsibility as their new master to train them, socoalize them and love them. In return, the bond will be remarkable and your new puppy will mature to a dog that everyone will want to take home!
The smaller maltipoos around 6 lbs are usually fragile and I do not recommend them for families with small children, therefore they would be better for families with older children. The larger maltipoos around 8-12 lbs I would recommend them for families that have small children. Maltipoos get along very well with children, but should be supervised around young children to ensure they are treated respectfully.
Maltipoo Information:

Size: The Maltipoo comes in a variety of sizes, but most of ours will weigh between 6-12 lbs grown. (Tiny Toy and Toy Maltipoos)
Color: All purebred Maltese are white, crossing them with a poodle allows the puppies to come in a variety of colors.
Coat: The maltipoo coat can range from silky texture of the Maltese coat to the poodle's distinctive curly coat. Maltipoos don't shed and are good for people that sufferers from allergies. Many maltipoos are kept in a short "puppy cut". Some maltipoos are kept with a longer coat, with the hair tied in a bow above the eyes.
Character: the maltipoo is an intelligent, loving dog. The mix of the Maltese and poodle usually produces a lively, playful dog devoted to its family. The maltipoo loves to play or curl up on the couch for a nap. Maltipoos require frequent human companionship they love to be with people.
Temperament: Maltipoos are very affectionate, loyal, very playful, love to cuddle and easy to trained they also get along well with dogs and other pets if socialized when young. Maltipoos may be wary of strangers and are highly protective of their family. Maltipoos get along very well with children, but should be supervised around young children to ensure they are treated respectfully.
Care: The maltipoo requires regular brushing to prevent tangling. The eyes and ears should also be cleaned regularly with stray hairs removed from around the eyes. Bathe only when necessary. Puppies should not be handled constantly as they need time to rest and relax.
Lifespan: The maltipoo has a lifespan of 12-15 years.
Training: A maltipoo is eager to learn and should not present many difficulties in training. Positive reinforcement is likely to be the most successful approach. This breed may take a while to house train. Like the Maltese, many maltipoos are paper or crate trained rather than "outdoor" trained.
Activity: The maltipoo can have most of their exercise needs met by indoor play and activities, but they also enjoy a 15-20 minute walk or playtime in the yard. The maltipoo is an excellent breed for apartment life or traveling companion.
Maltese Information:
Size: The Maltese comes in a variety of sizes roughly 6-12 lbs.
Color: All Maltese are white.
Coat: The Maltese is a small dog in the toy group, know for its silky white hair, though many owners of pet Maltese give them a short "puppy cut" for easy grooming.
Temperament: Maltese are bred to be cuddly companion dogs, and strive on love and attention. They love to be held. Our little girls love to watch Gun Smoke with us every night. They are extremely lively and playful. The Maltese are gentle, trusting, and obedient.
Character:  The Maltese brings great joy and are delight dogs. They are highly intelligent, animated, and playful. They are very social. They are happy, and content being the center of attention. The Maltese breed is bright, loving, and a deeply devoted companion.
Poodle Information:
Size: The toy poodle weighs between 6-12 lbs grown.
Color: Poodles come in a variety of colors.
Temperament: The toy poodle is one of the brightest and easiest breeds to train. They are alert, responsive, playful, lively, sensitive and eager to please. A poodle is devoted to its family.
Coat: Poodle have a very soft curly coat. Poodle don't shed.
Character: Poodles gets along with kids and other dogs and even a cat is no problem for a poodle. Lively and affectionate, they make wonderful companion dogs. They can be good guard dogs, announcing visitors but never being aggressive. poodles are very intelligent probably one of the reasons they are so easy to train. They are high-spirited, happy dogs who love a busy life and being involved in all family matters.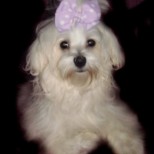 We are a Maltipoo breeder offering maltipoo puppies for sale across the USA. We breed Maltipoo Puppies that are healthy, loving, smart and pre-spoiled. The Maltipoo is a cross between a maltese and a poodle read all the information that we have provide about the maltipoo breed. You can find more information on our site about our adorable maltipoos, maltipoo, Maltipoo puppies, Maltipoos for sale, Maltipoo puppies for sale, maltipoo breeders, Maltipoo Colors such as Red, Apricot, Black, Black and White, Cafe au Lait, Brown,  Blue, Bronze, Cream, Gray, Silver, Silver Beige,Phantom and traditional White. Maltipoo Sizes  such as tiny toy maltipoos and toy maltipoos, maltipoo waiting list procedures, shipping and delivery your maltipoo puppy,  maltipoo puppy supplies that you will need for your new puppy, how to train and care for your new maltipoo puppy. 
April 20,2011